High Torque, Silent Rotation Servex FTD3S2P22-01 DC24VFeatures
The micro step driver operates with low noise.
Step angles of 1/8, 1/4, 1/2 and 1/1 can be chosen.
High torque and high speed response achieved using constant current driver.
Input commands may be selected from either direction-of-rotation separate serial pulse signals or a combination of directional signals and pulse signals.
Reduced current (40 to 60%) function to prevent overheating during holding.
Type

N/A

FTD3S2P22-01 Series 3-Phase Hybrid Stepping Motor Driver

Product Type

N/A

Stepper Motor Driver

Series

N/A

Driver

Step Angle

N/A

1/8 deg./step

1/4 deg./step

1.2 deg./step

Current per 2 Phase

N/A

1.5 A

2.0 A

3.0 A

Min. High Level Input Voltage (Vih)

N/A

4.0 V

Max. High Level Input Voltage (Vih)

N/A

Vcc+0.3 V

Min. Low Level Input Voltage (Vil)

N/A

-0.3 V

Max. Low Level Input Voltage (Vil)

N/A

0.8 V

Min. Rise Time (Tr)

N/A

2.0 µs

Max. Rise Time (Tr)

N/A

9.5 µs

Max. Fall Time (Tf)

N/A

2.0 µs

Min. Input Pulse Range (Twl)

N/A

10 µs

Min. Direction of Rotation Change Timing (Twh)

N/A

3.0 µs

Power Supply

N/A

10.8-26.4 V

Note

N/A

Specified the voltage waveform between the user circuit ground and the FTD3S2P22-01 terminal


a1193.jpg



Connector Specifications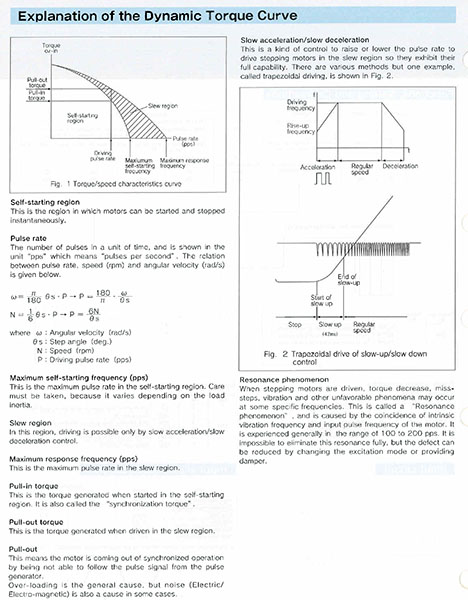 Explanation of Dynamic Torque Curves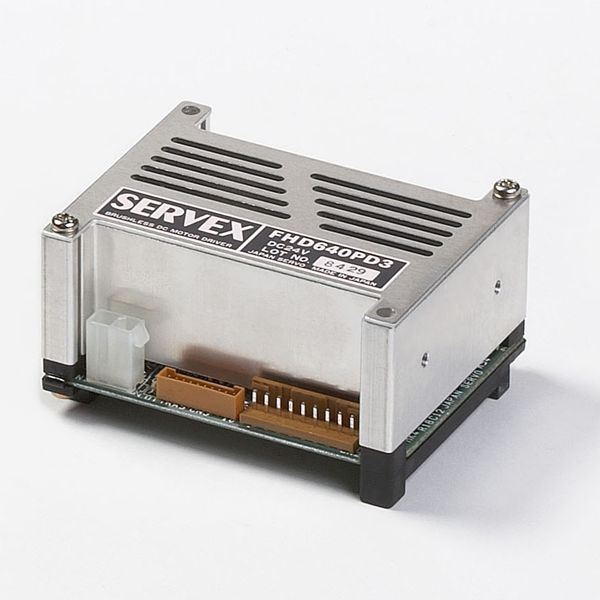 FTD3S2P22-01 Series 3-Phase Hybrid Stepping Motor Driver (FHD640PD3)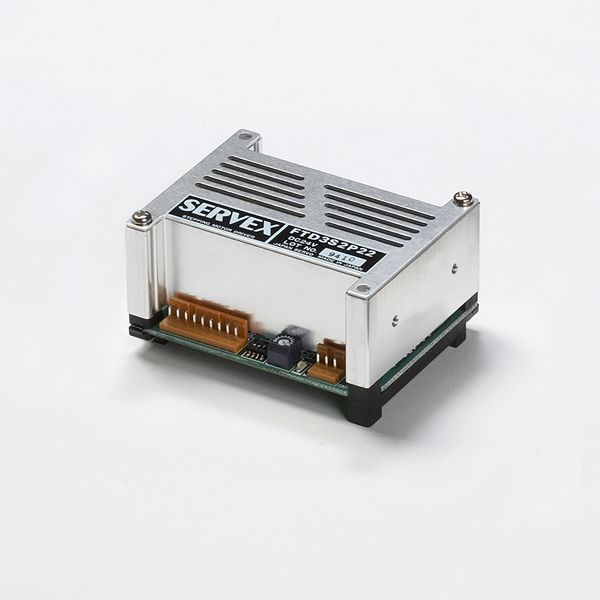 FTD3S2P22-01 Series 3-Phase Hybrid Stepping Motor Driver (FTD3S2P22)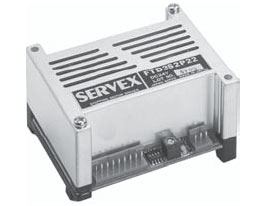 FTD3S2P22-01 Series 3-Phase Hybrid Stepping Motor Driver (FTD3S2P22-01)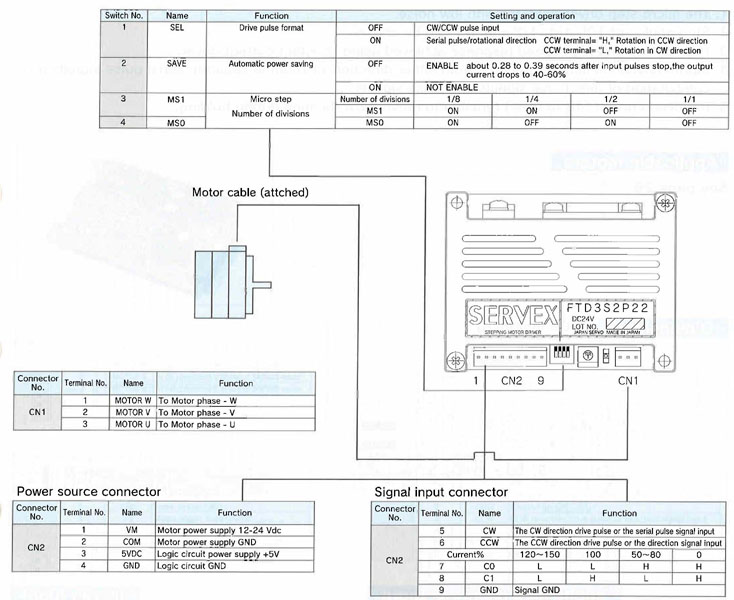 Functions, Setting and Connections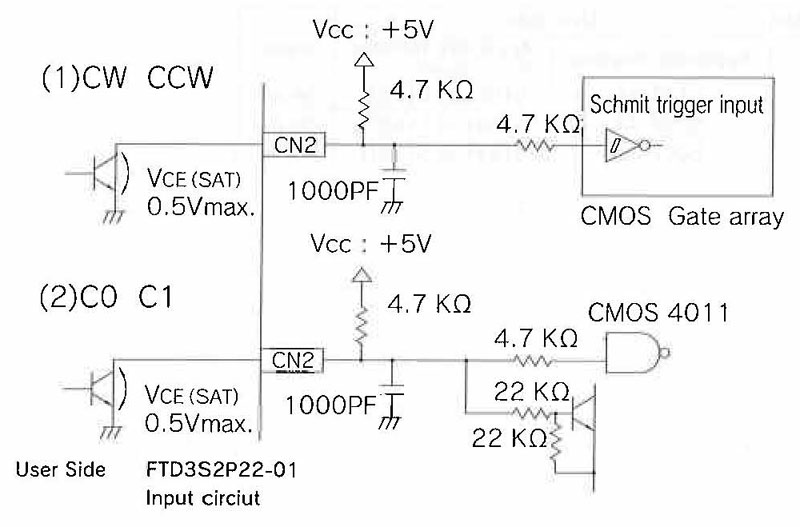 Input Circuit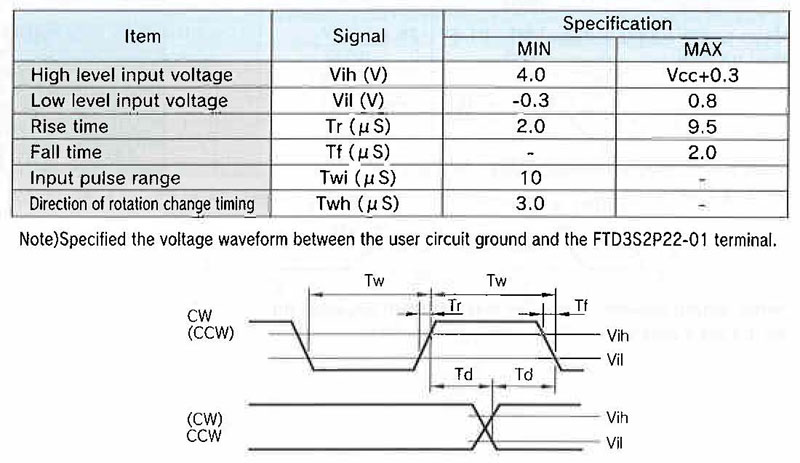 Input Signal Specifications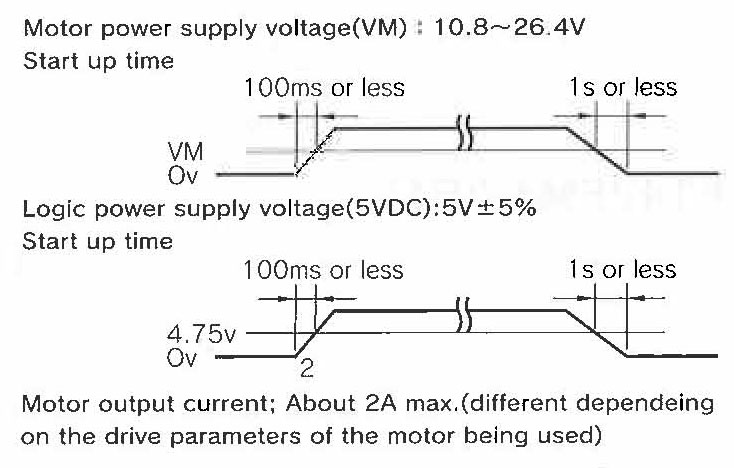 Power Supply Specifications