For cooling and/or ventilating in electronic cabinets which have high resistance to air flow (system impedance).
The G1238 is designed using a digital analysis system to maximize cooling efficiency and minimize noise during operation.
Uniquely formed fixed blades designed by digital engineering.
Controls spread of air stream.
When two G1238 fans are stacked, the static pressure is almost doubled.
It is suitable for use in highly reliable/redundant designs; the trend of cooling systems.
Type

N/A

G1238B Series Brushless DC Fans 119X38

Product Type

N/A

Brushless DC Fan

Series

N/A

High Pressure Fans

Material

N/A

Bearing : Both Side Shielded Ball Bearing

Propeller : ABS and PBT Synthetic Resins

Venturi : Aluminum Alloy Die Casting

Motor

N/A

Brushless DC Motor, Protection type : Current shut off by detecting lock state, automatically reset

Dimensions

N/A

119 x 38 mm

4.69 x 1.5 in

Voltage

N/A

12 V

Max Airflow

N/A

223 cfm

6.3 m³/min

Max Static Pressure

N/A

415 Pa

1.67 inH2O

Noise

N/A

64 dB

Max. Speed per Minute

N/A

5300

Min. Speed per Minute

N/A

1000

Operating Voltage

N/A

9.6 - 13.8 V

Current Rating

N/A

2800 mA

Current Starting

N/A

3900 mA

Operating Temperature

N/A

-20 ~ +70 ºC

Weight

N/A

480 g

Options Available

N/A

Filter : F120 Filter

Guard : F120UL Guard

Qty/Box

N/A

20

Carton Size

N/A

45 x 38 x 29 cm

Qty/Pallet

N/A

480

Standard Pallet Size

N/A

790 x 930 x 1020 cm

Box/Pallet

N/A

24

Note

N/A

Figures in the table are average measured values. Please request the product delivery specification when preparing a purchase specification.
The characteristics are the values at rated voltage (12 V, 24 V, 48 V). and normal temperature and humidity.

Input

N/A

33.6 W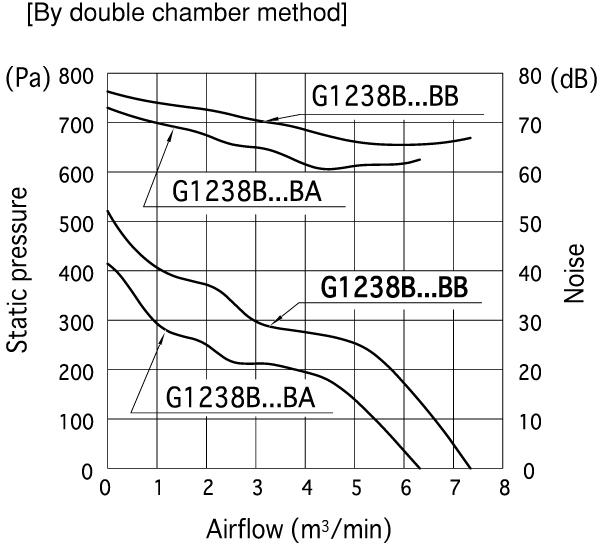 Standard Airflow & Static Pressure Characteristics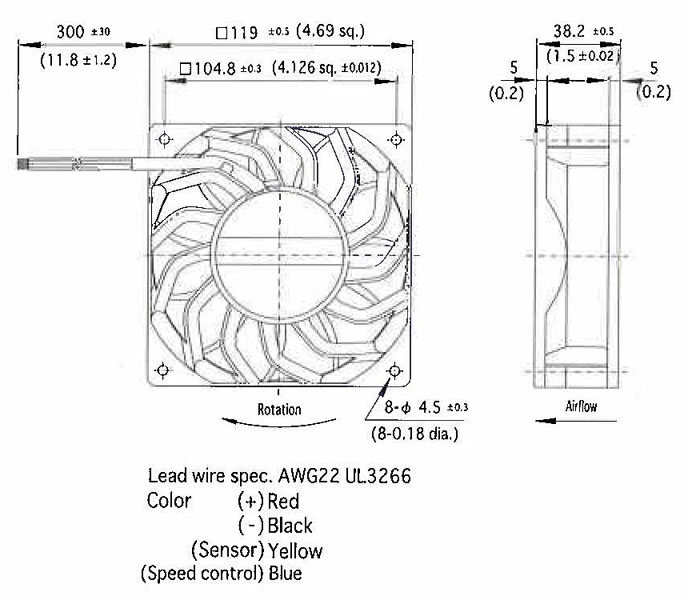 a1336.jpg


a1796.jpg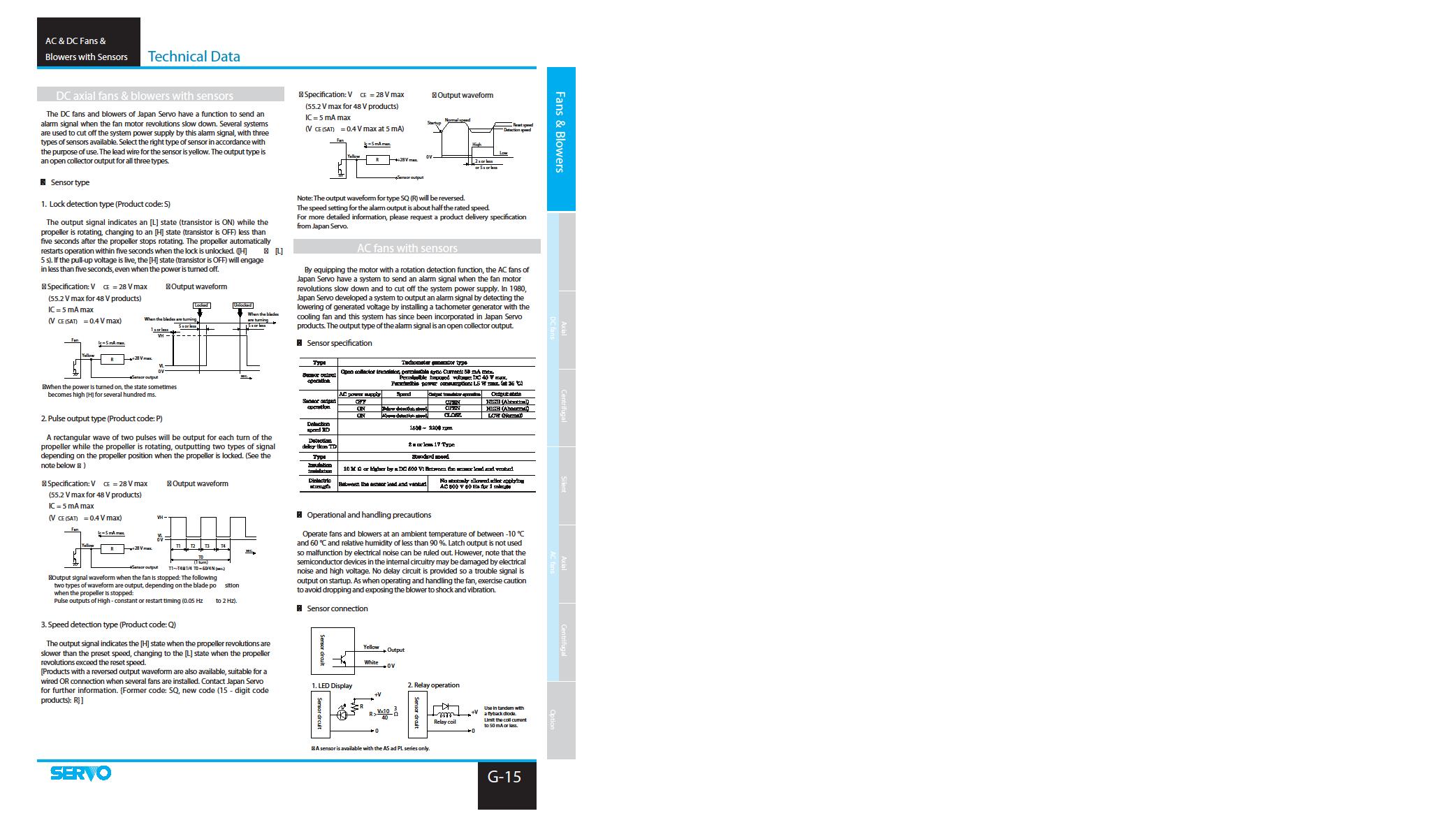 FanBlowerSensorPg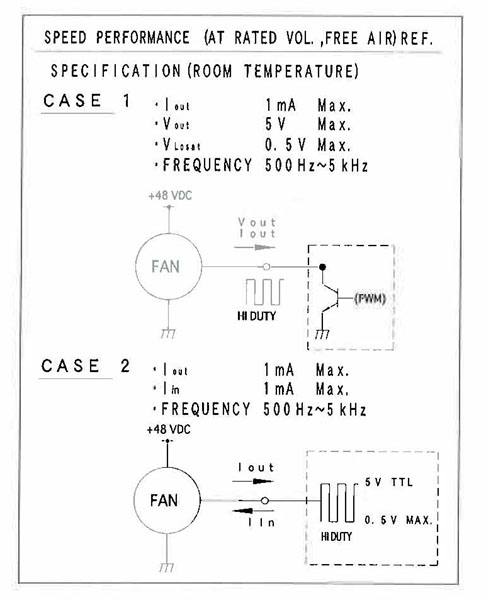 G1238B Series-Speed Performance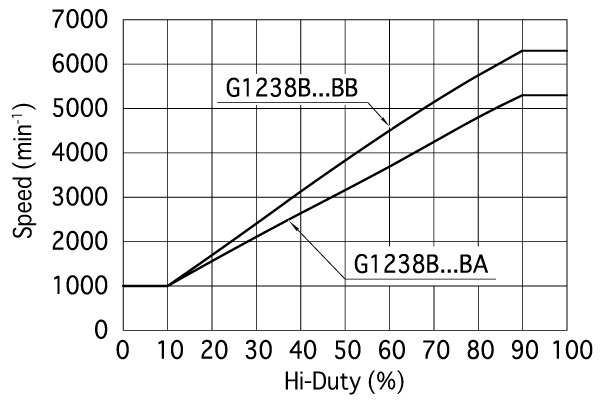 PWM Speed Control Specification