Motors are designed small and high performance
We recently released a special magnetic circuit design motor. This motor design is smaller and has a higher performance than conventional FED, FYD series motors.
Wide range (200 r/min-2500 r/min 60 W:65 r/min-2500 r/min), stepless speed control.
Very steady characteristics (Feed back control employed).
Speed pulse output can be used for speed monitoring, simplified position control...
Direction of rotation can be monitored by this signal.
At an over-load condition, the motor stops and an alarm signal is output.
Type

N/A

Palm Mini Plus J-Book Type Motors 61X61

Product Type

N/A

DC Motor

Series

N/A

FHD

Motor Frame Size

N/A

61 x 61 mm

2.4 x 2.4 in

Number of Poles

N/A

14

Shaft Specification

N/A

Plain Shaft Type

Rated Voltage

N/A

48 V

Rated Voltage

N/A

48 V

Rated Output

N/A

60 W

Rated Torque

N/A

290 mN·m

42 oz·in

Rated Speed

N/A

2000 r/min

Speed Control Range

N/A

65 to 2500 r/min

Max. Instantaneous Torque (in 5 sec.)

N/A

440 mN·m (1500 r/min)

62 oz·in (1500 r/min)

Max. Instantaneous Torque at 1500 r/min (in 5 sec.)

N/A

440 mN·m

62 oz·in

Speed Setting Method

N/A

(1) Speed setting by external speed setter (Sold separately: model code Q-R10KB)

(2) Speed setting by external voltage supply 0~10V

Speed Setting

N/A

300±5 %

Speed Variation (Against Load ±1%)

N/A

0~rated torque at rated voltage and speed

Speed Variation (Against Voltage ±1%)

N/A

Rated voltage ± 10 % at rated speed, no load

Input Signal

N/A

H : Open collector

L : GND (0~0.8V)

Run, Brake, F/R IN, Alarm RST (Only 60W)

Output Signal

N/A

10 mA. Max.

Alarm, Speed Out (Pulse Output), F/R Out

Open Collector Output DC 30 V Max.

Speed Pulse (Pulse/Revolution)

N/A

42

Max. Average Current Rated

N/A

2.3 A

Max. Peak Current Rated

N/A

10 A

Operation Temperature

N/A

0~40ºC (no condensation) continuous duty. The motor flange surface temp. must be 80ºC Max. (Ambient temperature 40ºC without heat sink)

Motor Dielectric Strength

N/A

Withstand for 1 min. under AC500V 50Hz (Between case and coil)

Motor Insulation Resistance

N/A

10 MO MIN. (20 W, 40 W) 100 MO; MIN. (60 W) (Between case and coil by DC 500 V tester)

Note

N/A

Minimum Order Quantity May Apply

Speed Variation (Against Temperature ±3%)

N/A

20 ±20ºC at rated voltage and speed, no load

L

N/A

2.36 in

60 mm

Diameter

N/A

0.3937 in

10.00 mm

Weight

N/A

1.5 lb

0.7 kg

Protection Functions

N/A

Over load protection
When an exceeding torque than rated is applied to motor for more than about 5 sec., Stop motor and outputs "L" from "ALARM" (20W, 40W) or "ALARM OUT" (60W).
To release alarm :
Palm Mini PLUS type: Disconnect power supply for more than 1min
J-Book type: Input "L" to "ALARM RST" for more than 1sec. Do not measure/judge by this operation whether the motor is overloaded or not.

Rated Power

N/A

60 W

Peak Current

N/A

10 A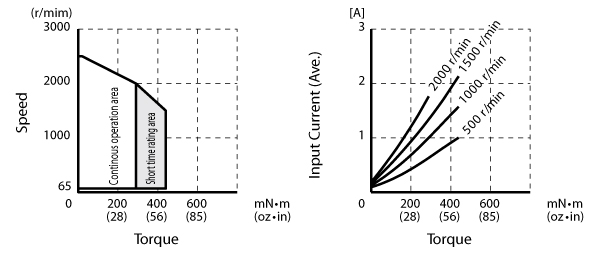 FHD6J60 ST CURVE.jpg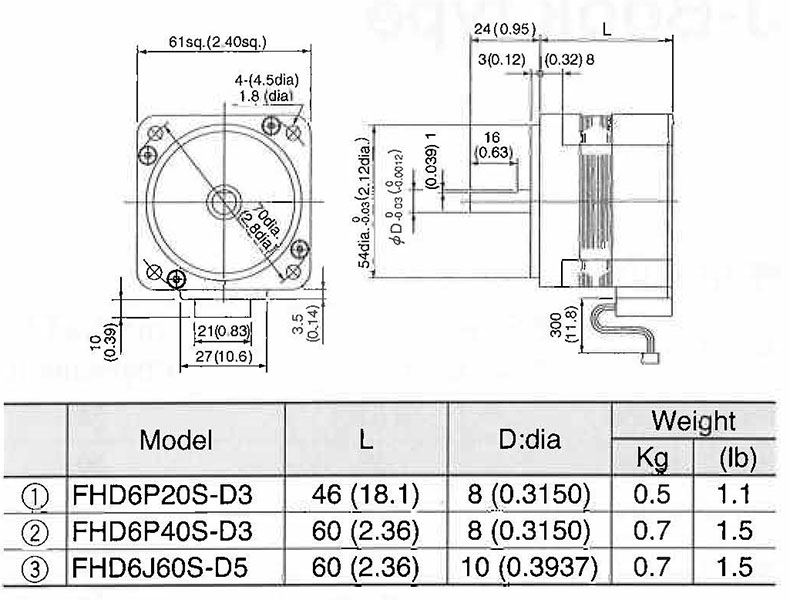 Outline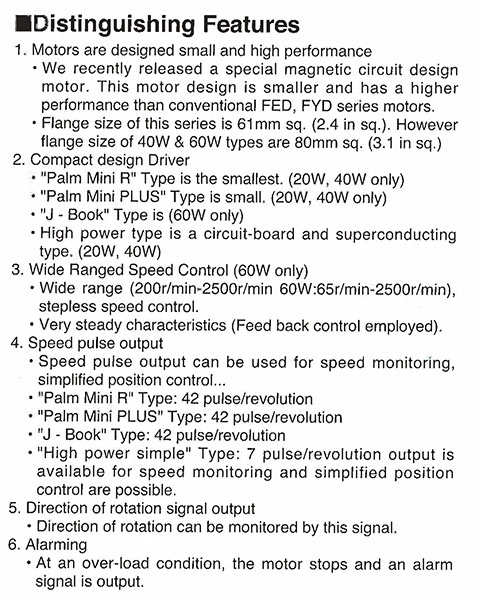 Distinguishing Features


FHD Series - Palm Mini Plus J-Book Type Motors 61X61 (FHD6P20S-D3-SI)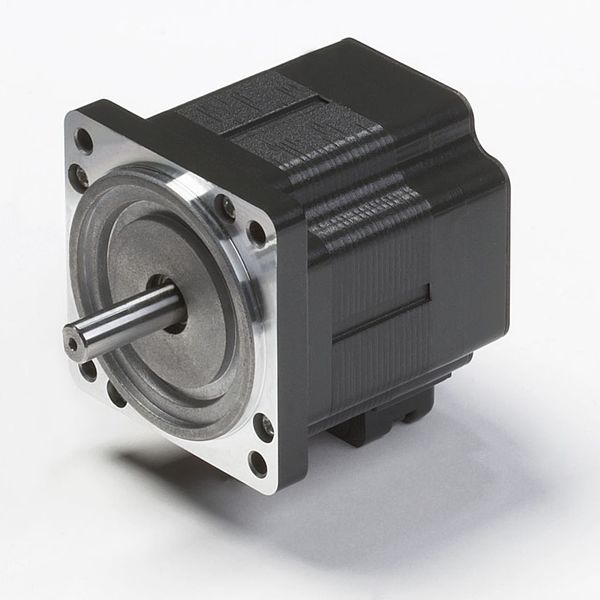 FHD Series - Palm Mini R Type Motors 61X61 (FHD6S40)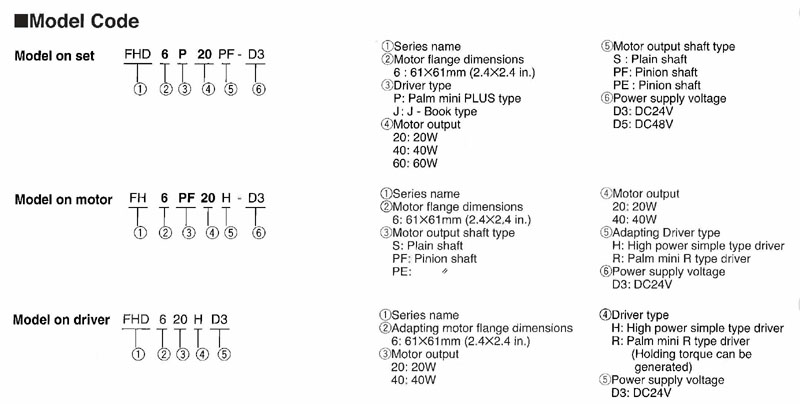 Model Code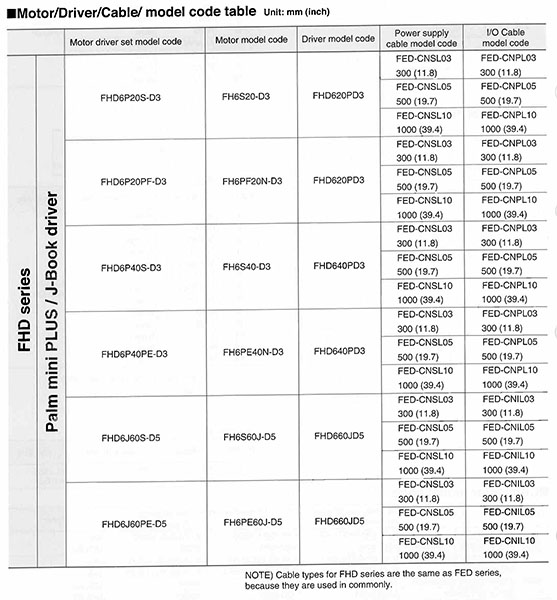 Motor/Driver Selection Guide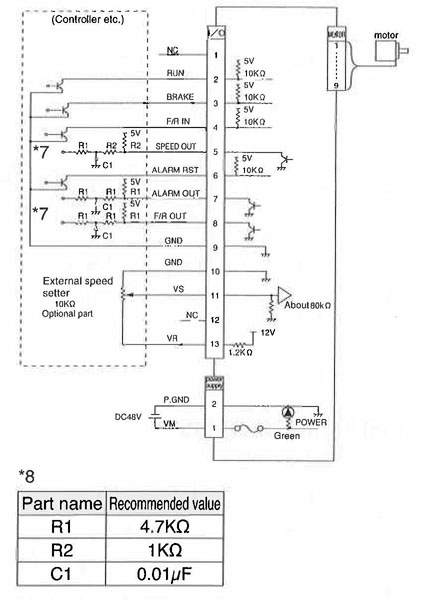 Wiring Diagram